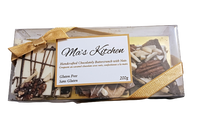 Ma's Kitchen / Gluten Free
If you haven't heard of Ma's Kitchen, you should! It's a family recipe, made in Markham, Ontario. This Buttercrunch toffee is made with an incredible crisp buttery caramel candy poured over freshly chopped almonds and pecans. It is topped with white, dark or milk chocolate, and beautifully finished by hand with a contrasting chocolate drizzle, and more fresh pecans, almonds or cashews. It has a clean bite, and it melts in your mouth. One taste and you'll be hooked! 
It makes a fantastic finishing touch add-on to any gift of flowers or gift basket
Gluten Free!